As the dry summer heat burns away and signs of a rapidly approaching autumn appear, life on the ranch has also begun to adapt to some expected seasonal changes. Last week marked the conclusion of our Kids Program — a bittersweet indication of the fading summer days. As our youngest guests prepared for their transitions back into school, so did many of our seasonal staff members.
For the first time in years, Hilary and Daniel left at the start of August so Daniel could begin his education classes at Idaho State University. Our smartest babysitter, Hope, started her junior year at the University of Idaho fulfilling both her biomedical engineering and math degrees (I don't know how that girl does it). Julie (the guest-turned-employee) started her very first year at
 college! Texas Jonah and Texas Jacob even remembered to call back to base before they headed home to finish up their secondary education degrees. 
The barn also said goodbye to the sweetest soon-to-be nurse, Hannah. Looks like it's going to be up to Tim to apply all our band-aids from now on. Apache has been standing at the catch pen gate waiting for Lucas, the future lawyer, to return for a ride. From the second Serena left, we all knew she was already plotting her return to Kids Program next year. I can already picture her riding back to the ranch on one of her wild mustangs with a saddle bag full of vegan snacks. Kateri has headed out as well, but as a local, we'll surely be seeing her again soon. And lastly, with Briana's departure to her new job in Utah, I have stepped up in an attempt to fill her shoes as the honorary RHMR blogger.
Although leading Kids Program will always be my favorite position to hold on the ranch, I can't help but feel at peace as the summer whirlwind finally begins to settle down. Surprisingly, the newfound quietness on the ranch does not invoke feelings of despair over the summer past, but instead offers both staff and guests a renewed atmosphere, yearning to be filled with fresh experiences and fall festivities.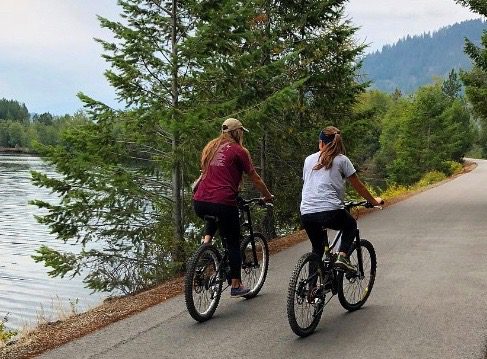 As I transition back into being an Adult Wrangler, I now find myself with an increased energy left to spare at the end of the week, and even some free time. This past weekend I created a list of activities I would love to accomplish while living in Northern Idaho. Here are some of the things on my list: Bake a pie using fruit picked on ranch property (we have wild plums, apples, pears and more!), bike the Trail of the Coeur d'Alenes (see picture), ride the Hiawatha, see a real western rodeo, camp on Caril Peak, hike Mineral Ridge, read a book in weekend pasture while the herd is there, visit the Kootenai National Wildlife Refuge, attend Octoberfest in Harrison, learn about Idaho's mining history in Wallace, and backpack through Glacier National Park. 
Between the activities available on ranch and all of the cool things to do nearby, there's no such thing as a boring day when you're a Red Horse Mountain Ranch team member. Cheers to season changes!
~Rachel (Head of Kids Program)