Adventure for Everyone
Whether riding horseback to breathtaking vistas, conquering the climbing wall, practicing your aim at the shooting range, or simply relaxing in the tranquility of a Rocky Mountain dude ranch, you decide how to spend your week at Red Horse Mountain Ranch. Our all-inclusive dude ranch vacation packages are a perfect option for family vacations, couples, friends, singles, and corporate retreats, with numerous guided on-ranch activities to suit everyone's preferences. For those of you who'd rather take time to explore the ranch on your own, we also have self-guided adventures. Red Horse Mountain Ranch all-inclusive vacation packages provide activities everyone will enjoy! To learn more about all the activities the ranch has to offer, please click on the links below.
Horseback Riding at Red Horse Mountain Ranch
At Red Horse Mountain Ranch, horseback riding during your vacation is an everyday experience, if you choose to do so. Our riding program is designed to be a memorable experience for everyone. You'll have miles of trails, a knowledgeable wrangler, a trusty horse, and the ability to go wherever your skills can take you during our horseback riding vacations!
Before you arrive you will be paired with a horse for the week, chosen for you based on the information you provide on your Activity Form. We furnish each rider with a saddle and tack for their entire stay. Riders have at least two opportunities for exhilarating, western-style horseback riding each day. There are rides scheduled throughout the week for all skill levels. All horseback rides leave from the valley floor and travel to unique vistas, viewpoints, or peaks. Advanced riders must complete the advanced test, allowing us to evaluate your ability to control your horse and to make sure you and your horse are a good match.
Find out more about our horseback riding policies
Challenge Course & Climbing Wall
The challenge course is unlike any other experience you will have while on vacation at Red Horse Mountain Ranch. We take great pride in having our staff and course nationally certified. These elements range from ground to high elements like a 300 foot zipline. There truly is something for everyone, and we practice what we call "challenge by choice." This means you choose to participate in only the elements that you feel comfortable doing.
The course is designed to challenge you and your group mentally and physically with each element progressing in difficulty. The challenge course is a fantastic way for all ages to build confidence, work as a team, and achieve new heights never imagined. Each one of our challenge course facilitators is trained and professionally certified to provide a fun and safe climbing environment.
Before you get started, you will receive a safety orientation and get properly fitted with a helmet and harness. We start on the ground with stretching and work as a group with creative problem solving games. As your team moves on and is oriented, you may try your hand at any of our high challenges, ranging from the 63 foot climbing wall, to leaping from a platform 30 feet in the air in an attempt to catch a trapeze, aided by your team, balance, and inner strength.
As with most of our adventures, all of the climbing and challenge course equipment will be provided. There is no need to bring your own climbing harness or ropes, however if you would like to bring your own chalk bags or climbing shoes, please do so. Guests are encouraged to wear comfortable athletic type clothing and sneakers, you may also want to include sunglasses, hats, and sunscreen.
The Kids Program will also venture to the challenge course each week, giving the children more elements which are not done with adults. Parents may want to take the opportunity to see their children during this time and arrangements can be made for you to join the kids. The Challenge Course is a must do during your vacation!
MegaZip!
Get your swimsuit out for the MegaZip! This is one ride you won't soon forget. After a short hike up the single track path to the platform, and maybe a breather at the top, your guide will securely clip you in and then send you off on a 30 mile per hour, 1500 foot long, thrilling ride that splashes down into our spring fed pond! It's the perfect way to end the week, especially on a hot summer day.
There are no age restrictions for the MegaZip!, but the cable for the zipline under typical conditions can only accommodate guest weights from 50 pounds to 240 pounds.
Mountain Biking
Experience the outdoors in a whole new way. Red Horse Mountain Ranch offers a variety of mountain biking trails, from a leisurely ride through the woods, to the thrill of pushing your mental and physical limits climbing and descending more demanding trails. Our full suspension mountain bikes provide a fluid and comfortable ride and let you cover a variety of terrain.
Exhilarating rides through the Idaho Panhandle National Forest on select off-road trails offer novice, intermediate and advanced riders great vistas and overlooks of the Coeur d'Alene Mountains. Trails are mostly single track and you'll be traveling by shuttle to the trailhead. The trails travel through forests and across ridge lines, include creek bottoms and mountain sides, as well as sustained uphill and downhill sections. You'll be passing through old tree stands and along open meadows. Although not an adventure for the younger children, usually an athletic teenager can ride on this adventure.
Mountain Biking Orientation
Whether you have been riding your whole life or you aren't even sure what hand brakes are, the mountain bike orientation at the Bike Barn is a great way to meet with our mountain bike guides and familiarize yourself with our bike fleet. Make sure to bring a cup of coffee and an extra layer, as it can be a little chilly some mornings. The orientation consists of a brief description of the bikes we ride as well as a hands-on explanation about shifting and braking. After that we will fit helmets and head out to the "trail simulator" for some fun and learning on a safe, low-speed course. This gives riders an opportunity to get an idea of some of the obstacles we might encounter on the trail, as well as work on body position and play some fun balance games.
Other Bike Tours
The Trail of the Coeur d'Alenes is a 72-mile paved trail spanning the Idaho panhandle between Mullan, a mountain mining town near the Montana border, to Plummer, a prairie town near the Washington border. It is one of the longest continuous paved bike paths in the United States. Our guided cycling trips will leave from Harrison, Idaho, an approximately 10 minute drive from Red Horse Mountain Ranch. After being fitted with safety equipment and a bicycle, we'll be off on our ride along the Coeur d'Alene waterway. 
3D Archery
The 3D archery course, designed for all levels of shooting abilities, is a fun family or group event that will put your archery skills to the test. Our guides will take you through a forested archery course consisting of life-sized 3D targets hiding just off the trail at a variety of distances and challenging angles. We'll provide you with a bow and a quiver full of arrows, and all you have to bring is your sense of adventure!
The course is outfitted with Genesis compound bows in both youth and adult sizes. A few traditional recurve bows are also available. You will receive plenty of instruction from your guide to get acquainted with our top of the line archery equipment.
Kayaking Tours
After the sun has warmed up the fresh water in our surrounding lakes, there is no better place to spend an afternoon than in a kayak! Kayaking allows you to move swiftly through the nearby lake and river systems in your own craft or with a partner. Our ocean kayaks are wide platform, difficult to overturn and cut easily through the water, a great combination for paddlers of all levels, including children. If you'd rather go for a swim, though, feel free to dive on in! Our guides will help you get back in the saddle.
Thompson Lake is part of the Coeur d'Alene Chain Lakes system. It's a shallow lake located approximately 3 miles from the ranch, rich with birds and other wildlife, and also has a good population of bass, panfish, and pike. Because the lake is shallow, sunlight is capable of reaching 99% of the bottom, which in turn, creates an energy rich environment, supportive of native and introduced wildlife.
The tours provide a relaxing and tranquil experience for you to enjoy. Your kayak cuts through the water easily, gliding you along in the sun, while you watch osprey, waterfowl, beavers, deer, bald eagles, an occasional moose, and other animals in their natural habitat.
Sporting Clays
Sporting clays is the closest thing to actual field shooting of all shotgun sports. Rather than having clay birds thrown from standardized distances and angles, as with skeet or trap, sporting clays courses are designed to simulate the hunting of ducks, pheasants, other upland birds, and even rabbits. Targets are thrown from various angles and distances, and different sizes of clay targets are used to give the shooter the experience of actual hunting conditions. Action packed and exciting, sporting clays has quickly become one of the top participation sports in the country and it's a sure bet for an enjoyable outing.
You'll be participating in a safely controlled environment and there will be plenty of instruction on gun safety and shooting technique. Shooters are provided the opportunity to have a lot of fun, learn some things about shooting, and hone their skills. There are 5 stations, each providing their own unique targets, simulating the movements of different waterfowl and even a rabbit. Shooters start in small groups and move from station to station.
Our Sporting Clay course makes good use of thick brush, steep terrain and other natural features, making the shooting both challenging and realistic. We provide everything you need including shells, different types of shotguns in several gauges, shooting glasses, ear protection, vests, pouches, and, of course, a guide and trapper. No matter your skill level, you'll have a great time and we even throw in a little friendly shooting competition!
Fishing Pond
The fishing pond is stocked with smallmouth bass, largemouth bass, crappie, brook trout, and perch. You can try your luck with a fly rod or conventional fishing tackle provided at the pond. If you have your own gear, you are more than welcome to bring it along. Kayaks and row boats are also available. You can adventure to the pond in the early morning before breakfast, after dinner, or anytime during the day. Youngsters under the age of 14 are required to be with either a guide or a parent. Fishing at the pond is catch and release only, so make sure to take a camera to document your success. You do not need a fishing license.
Fly Casting Lessons
Fly Casting Lessons are scheduled a few times throughout the week. Casting lessons can be fun and beneficial to anyone, whether you've never held a fly rod, you're trying to improve your technique, or you're getting ready for your guided fly fishing trip.
Guided Fly Fishing Trips ($)
Fly fishing trips on the nearby legendary St. Joe River are offered for an additional fee. Please click the link for more information. See more…
Kids Program
The Kids Program is available during our summer all-inclusive Family Vacation Weeks. The program is designed for ages 3 to 10, but anyone is welcome to participate. At Red Horse Mountain Ranch our kid-friendly environment lets you see your children's confidence bloom as they experience our wealth of exciting adventures. Imagine watching the joy in your child's face as they soar 50 feet in the air on the flying squirrel, command a horse on scenic trail rides, and, with a little help from the guides, scramble 60 feet up the climbing wall and ring the bell at the top! Kids learn to kayak, shoot a bow and arrow, ride a horse, go for bike rides, and can even go plinking on the shooting range. We'll keep them safe so you can relax, knowing they are in good hands with our wranglers. You are welcome to join in their fun or wander off to find your own adventures.
If you have any questions about our Kids Program, please drop us an email to [email protected] or call us at (888) 689-9680. We've been entertaining children for over a decade and we can guarantee the yours will have a blast. New friends will be made, adventures abound and the kids will hit their pillow so hard at night they may snore. Be ready for the tears you'll see on Saturday when the time comes to hit the road, but only until next year!
Trail of the Coeur d'Alenes
The Trail of the Coeur d'Alenes is a 72-mile paved trail spanning the Idaho panhandle between Mullan, a mountain mining town near the Montana border, to Plummer, a prairie town near the Washington border. It was created through a unique partnership between the Coeur d'Alene Tribe, Union Pacific Railroad, the U. S. Government, and the State of Idaho. The trail takes you from high mountain splendor, through the historic Silver Valley, into the chain lakes region, along the shore of Lake Coeur d'Alene, over the Chatcolet Bridge to Heyburn State Park, and finally climbs to the Palouse prairie: an adventure for the entire family! Multiple developed trailheads provide entry points, and there are scenic waysides along the route for picnicking.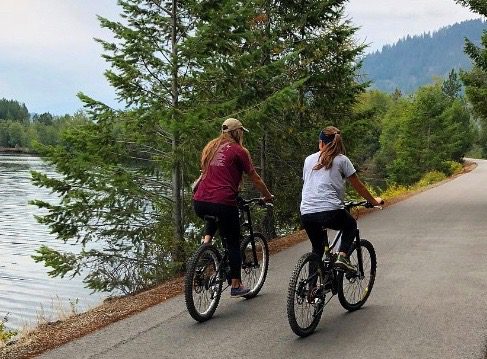 Our guided trips leave from Harrison, Idaho, a 10 minute drive from Red Horse Mountain Ranch. Guests are fitted with safety equipment and a bicycle from the Cycle Haus in downtown Harrison, and then we'll be off on our ride along the Coeur d'Alene waterway. All ages are welcome to go, and there are even trailers you can rent for the little buckaroos. A few recumbent bicycles are also available.
The Trail of the Coeur d'Alenes leads through protected marshlands, offering cyclists a glimpse of wildflowers, eagle and osprey nests, deer, occasional moose, elk, and a variety of ducks and other wildlife. This is also a great extended trip for families that stay in the region before or after their vacation at Red Horse Mountain Ranch.
Hiking at the Ranch
Fitness Hiking and Morning Stretch
Each morning before breakfast, a short brisk hike and our morning stretch routine are offered as a wonderful way to wake up those tired muscles. Our guests have commented how the early morning activities really help get the blood flowing. However, sleeping in is also highly recommended by many!
Self Guided Hiking
If fitness is not your primary concern, or you would just like to experience the trails by foot, you may do so by stopping in the Trading Post to find out which trails are open for the day. Since the lodge is near the valley floor you can expect some hills, but we will help you capture the views without stretching your physical abilities too much. There are certainly trail running options as well. A trail map and ranch radio will be provided.
An Amazing Off-Ranch Adventure
To an experienced fly caster, the St. Joe River is the epitome of a western slope trout stream. Its clear cold waters flow over shallow cobblestone flats into rock-studded pocket pools, and there are riffles around every bend. Numerous native trout are willing to take a dry fly, and with perfect conditions, you may be rewarded with an epoch evening hatch. But you don't have to be a well-seasoned angler to enjoy the St. Joe River. Your guide will teach you different fishing techniques and how to imitate specific natural fly hatches. Float trips are guided from comfortable boats specially designed for fly fishing and allow you to cover many miles of river in a single day. The scenery on "the Joe" is breathtaking. You will experience an adventure you are sure to remember forever!
Wild and Scenic Designation
Flowing from the west slope of the Bitterroot Mountains on its 140 mile journey to Lake Coeur d'Alene, the legendary St. Joe River is classified as a National Wild and Scenic River. Its emerald-tinted waters are so clear you'll see the river bottom over 20 feet below the surface. This classic fishery is home to a tremendous population of native Westslope cutthroat trout that can grow over 20 inches long. This classic Idaho river offers a variety of different hatches, including stoneflies, mayflies, caddisflies, and terrestrials, producing high fish counts and offering amazing action at times.
Booking your Trip
Float boat fly fishing on the St Joe River is available from Memorial Weekend through the summer, depending on river flows and water temperatures. We recommend pre-booking your fishing trips before you arrive to ensure availability. Fishing trips are usually full day adventures departing from the ranch before breakfast and returning at the discretion of the angler and guide. You might be late for dinner if the bite is on! But don't worry, we won't let you go hungry.
White Pine Outfitters will be your outfitters for this trip, and Red Horse Mountain Ranch will make all the arrangements for a perfect day on the water. The guides love to fish and know where the best opportunities will be, so rest assured you will be placed in the best position possible. Fly casting lessons are available at the ranch prior to your trip, and all the necessary gear is provided. Don't hesitate to bring your own though, if you prefer.