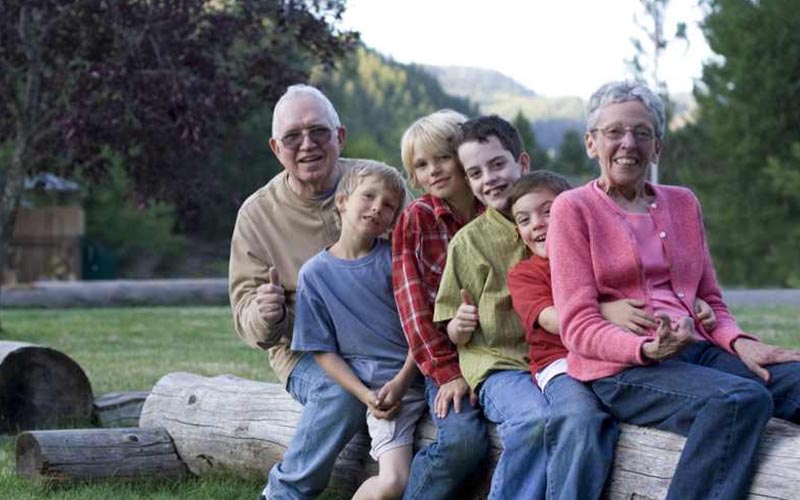 Every so often we're asked whether a dude ranch vacation is perfect for the grandparents and to be honest, they have always had a "grand" time on the ranch. It's wonderful to have grandparents that love to travel and can think of no better traveling partners than their precious grandchildren. Most often, we see grandparents wanting to share their passion of horses or the great outdoors. Sometimes they are rewinding memories of a vacation they may have had some time ago. Whatever the reason, bringing your grandparents with you during your dude ranch vacation at Red Horse will no doubt be one trip for the memory books. Here's a few tips on what grandparents should expect during their week on the ranch.
The grandchildren will have a blast. With all of the unique opportunities in the kids program for ages 3-11 years old, there is no doubt that the grandkids will be busy the entire week with horseback riding, a challenge course and climbing wall, kayaking, fishing, boat tours, and more. But where does that leave you? Are you able to spend time with the kids? The answer is yes. Grandparents that are up to riding horseback or doing any of the activities are able to join the kids program at their leisure. On many activities you have the option to participate or just watch the kids. Grandparents that are not wanting to horseback ride usually accompany the kids down to the tack barn in the morning to see them off on their rides then enjoy an hour or two break reading a book, taking a leisurely walk, or relaxing at the lodge. Its comforting to know that the kids are always taken care of no matter what you decide to do. There are no worries of them being away from your watchful eyes, knowing they are having a dandy time with the kids counselors.So should you choose to take in a scenic horseback ride, grab a book, or go along with the kids, everything is taken care of and the grandkids are in a safe environment.
Something for every child. Here in lies another beauty of the ranch. The schedule is already designed. There are more than enough activities to handle all kinds of desires that the kids may have. You won't have to worry about buying tickets, cab fares, making sure everyone has the right clothing or gear, and you can focus all of your energy on capturing those memories and simply spending these precious moments with the grandchildren.
No worries about dining, reservations, meal quality, and fresh foods. Let's face it, having the kids for the week can sometimes be a little overwhelming trying to plan everything while making sure they're eating healthy too. For some children on the ranch, meal times are a necessary evil, they simply cram it down to get back outside. Others can be picky eaters and some have serious allergies. During your reservation process, we'll be capturing all of this information and developing a meal schedule for you and your family through the week to meet your needs. The more information we have the better! Food allergies, likes and dislikes are what we consider very important in making sure you and your family have a delightful time on your activities AND during your meals. You won't have to worry about anything; there are plenty of options: snack bars, kid friendly meals, and all of it is made fresh with ingredients from the Pacific Northwest.
Whether a ranch vacation is on your bucket list or not, taking the grandchildren to Red Horse Mountain Ranch may be one of the best options for a grandparent. The options during a stay for the kids and you are seemingly endless and much of the hustle and bustle of a typical week long vacation just doesn't exist. Maybe you have a passion for horses, the great outdoors, or visited a dude ranch yourself as a child. Maybe your grandchildren have the same desires, or might not even know what a ranch vacation is. We can almost guarantee that 10 years from now they'll still remember the name of the horse they rode and they'll surely remember who it was that brought them to the ranch the first time.
Any of you grandparents have any more suggestions?
Take Care, Cory