Trout Fishing in Idaho: Discover the Saint Joe River
Idaho may not be the first place you think of when discussing trout fishing—unless, of course, you've heard about the Saint Joe River. To an experienced fly angler, the Saint Joe is firmly amid the upper echelons of trout fishing royalty, behind only a few other places in the world. Its frigid, crystal clear waters gush over smooth cobblestone bedrock into various eddies, drop-offs, and pools rife with hungry cutthroat trout. Thanks to prime habitat provided by our beloved waterway, and mindful conservation to keep it intact, there is a bevy of native specimens willing to take a dry fly, nymph or streamer. This summer, Red Horse Mountain Ranch invites you to discover why fishing in Idaho is something all outdoor enthusiasts should consider—not just fishermen.
Fishing in Idaho's Most Scenic Waterway
Originating 140 miles away in the Bitterroot Mountains' western foothills before spilling into Lake Coeur d'Alene, the Saint Joe River is clear enough for you to see the bottom at depths of up to 20 feet. Besides being a gorgeous reminder of its National Wild and Scenic Rivers designation, these translucent currents provide excellent trout habitat. Widely considered the best trout fishing in Idaho, "The Joe" is home to a healthy population of highly sought Westslope Cutthroat trout. An abundance of native trout aren't the only thing you'll find in Northern Idaho's finest river. The awe-inspiring scenery and remote solitude will make you feel like the only one on the water.
Idaho Fishing Guides from White Pine Outfitters
The crew over at White Pine Outfitters are our go-to guides when it comes to putting guests on the best fishing in Idaho. Either by drift boat or wading—depending on water conditions—fishing on the Saint Joe River is available from Memorial weekend to fall. You'll definitely want to pre-book your trips as they are extremely popular in the summer, and if you don't already have an Idaho fishing license we can take care of that for you right in our office. Day trips with White Pine start right before breakfast, with some anglers arriving late for dinner because "There's no leaving when the fish are biting." All jokes aside, your guides know the Saint Joe River like the back of their fly box and will go above and beyond to deliver a memorable outing. Fly casting lessons are included at the ranch, and we'll be sure to provide all the necessary gear.
An Eclectic Family Dude Ranch in Harrison, Idaho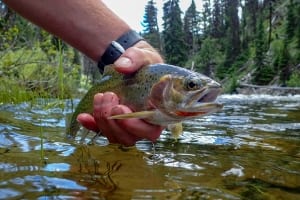 Idaho fishing is on many anglers bucket list, but you don't have to be a seasoned fisherman to have a successful outing on The Joe. Visitors to Red Horse Mountain Ranch quickly realize there are plenty of exciting things to do, even if you aren't an equine enthusiast. From kayaking to golf, and everything in between, the endless possibilities are what bring guests back year after year. For more information or to make a reservation, please visit us online or call 888-689-9680.