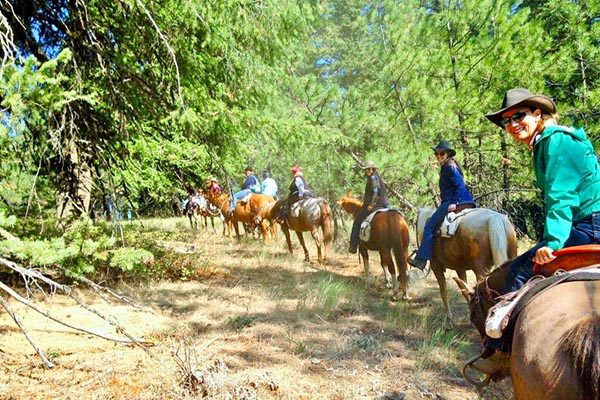 Almost 10 years ago Red Horse Mountain Ranch near Coeur d'Alene, Idaho had its first Ladies Week.
Women only trips were just becoming popular and Red Horse was looking for other ways to bring folks to the ranch to help make ends meet. We had a week coinciding with the fall colors after the kids head back to school. So we gave it go. Even the first Ladies Week, with maybe 20 or 25 women, was an amazing week. The ladies had enough fun to last them an entire year and most of them returned. Now, we need 2 weeks at the ranch to accommodate all the interest. Over the years, I've learned how important Ladies weeks are and it took me a little by surprise. Ultimately we feel it's essential the ranch dedicates a part of each season to the women who have dedicated themselves to their friends and family.
We all need to break away from a daily routine once in a while and rejuvenate our souls. Ladies week at the ranch gives women the freedom, space, and security to get a little relaxation, be pampered with special treatment, laugh to the point of crying, and to socialize with women from around the world. I'll never profess to understand it, but there's something different about a group of gals having the week to hang out together. It just works. Ladies come alone, with life-long friends, or family members. They heckle each other, talk about life's frustrations, enjoy each other's company, laugh hysterically, and most of all, celebrate their lives. Many people consider horseback riding to be a personal adventure, but that's just not the case here. Bonding with their horses is common and some ladies definitely learn more about how to ride. But when you get 40 ladies up on horseback together there's a different dynamic. These ladies go out on trail for hours and come back after telling stories upon stories and taking in the occasional quiet moments from vistas and scenic points along the way. By the end of the week their bums are sore (but you'd never know it) and they're ready to overcome or meet any challenges in their path.
"I wanted a different kind of solo adventure, preferably in the Northwest with gorgeous lakes, mountains, and fresh air. Although it had been several decades since I'd ridden a horse for any length of time, I was drawn to a dude ranch kind of getaway. When I discovered that there was a girls' week at this ranch, my curiosity was piqued. After I spent some time on their website, I was sold! That same day (Mid-August) i called and guaranteed my stay. Since I was alone, I was assigned my own cabin, and it was beautiful! Nothing rustic there! The package was all-inclusive, with opportunities for great food and adult beverages pretty much any time. I was assigned a horse for the week and opportunities to take a refresher class, go out on a morning ride, then an afternoon ride, and never lift a finger unless I wanted to. The ranch has a close knit staff of wranglers who make each guest feel like they've known us a long time. Each night there was some kind of relaxation opportunity from bonfire tales to saloon karaoke and live band. Kay, the barkeep, went wherever the party was with our favorite beverages, which she had memorized after the first night, along with all out names. The week went by way too fast, and I could have done both girl's weeks if I'd had the time! While the ranch in summer season holds about 60 guests, the girls' weeks entertain about 25 women of all legal ages. This will definitely be my go to September adventure next year as well!" ~ TripAdvisor, 2016
Here's another thing I learned during Ladies Weeks. The theories of motivating staff and team building can be tossed out the window. There are just certain happenings on the ranch where the Red Horse staff go five steps extra. Going above and beyond is normal for our staff, but there is something special about Ladies Week. I think it's a mutual feeling; they're so happy that we're so happy and that they're happy makes us more happy sort of thing. It just spirals out of control and hospitality is replaced with what I would call family care. Special diet concerns, special requests or needs, and anything that'll make their stay more personal the staff just do. The laughter is ridiculous from the dining room during ladies weeks. This is saying a lot. They're more fired up and excited than the kids on the ranch during the summer. By the end of the week the hugs, email exchanges, tears, plans for next year are made. They'll keep in touch with each other as the years go by and we're so happy to be a small part.
I think any gal needing to refresh or break away from daily routine should seriously consider coming. We need to smile and remind ourselves how blessed we are, even through life's troubles and change. I've heard too many times how important and rejuvenating time spent on the ranch is for our guests. There's something special about being on a remote ranch listening to the crackle of a campfire, being under the stars, the exhilaration of horseback riding, and being completely surrounded by friends, family, and people who share a common thread. Friendships like this and celebrating life is truly what Red Horse Mountain Ranch is about.